I am thrilled with the opportunity to sit down with Corbie Mitleid and learn more about her upcoming book, The Psychic Yellow Brick Road. I love reading her work as it is always so insightful, educational and just pure fun to read!
Belle:  Corbie, this is your second book.  Is it the follow up to CLEAN OUT YOUR LIFECLOSET?
Corbie:  No, it's totally different — CLEAN OUT YOUR LIFECLOSET was more of a self-help, self-improvement volume.  THE PSYCHIC YELLOW BRICK ROAD is one that comes completely out of my years of being a psychic medium and seeing how much people don't know about us.
Belle:  So, this isn't a book on psychic development?
Corbie:  There are already hundreds of those, and many of them are superb at helping people open up to their own gifts.  But just as someone can love going to art museums but not want to learn to paint themselves, there are many people who want to learn to use psychic guidance and choose the right intuitive but don't want to develop their own psychic abilities.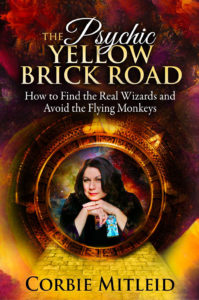 Belle:  What are some of the subjects you cover?
Corbie:  We start out with what I call "Psychic Boot Camp" – the most basic information you need before you wade into the world of Metaphysics. It's designed to keep you safe from the charlatans, give you a clearer idea of what you can (and cannot) expect, and prepare you to get the most out of every session.  Then I cover the ins and outs of a general session:  helping you know what to ask (and which questions won't help you), understanding the answers you're given, and how to recognize whether those answers are too vague, too detailed, or just plain NOT what will assist you in making your life the best it can be.  There's a section on what to watch out for, so you'll be aware of the situations that you have a right to put an instant STOP to, if they happen to you.
There are sections on angels, spirit guides, mediumship and channeling which also discuss what to expect with each one of these major players in a psychic session.  And yes, the last chapter is how to start, if you're interested in developing your own psychic skills, because after people discover everything that's possible in a psychic session they may get the intuitive bug themselves.  But it's just that – three suggestions on how to begin to walk the road, with some very good books listed in the appendix that are by authors I trust, should my readers want to explore further.
Belle:  How did you decide what to put in the book?
Corbie:  When you are doing a "basic" book, the temptation is to put in EVERYTHING.  And some people might say "why didn't you talk about [insert their favorite subject]in the book?"  Could I have included astrology, pendulum work, dream interpretation?  Of course – and a hundred other subjects that you run into when you're exploring psychic work for the first time.
If I had tried to cover everything – especially in a beginner's volume — very likely the information would have become muddled and overwhelming.  So, I asked myself "what do I run into over and over again with rookies?"
There are certain questions beginners always ask, whether it's in a private session with me, in the Q&A section of my talks, my "Dear Corbie" columns, or even just casual conversations when people find out what I do for a living.   And it made me very aware of how many people have either had horrible experiences, or are so overwhelmed when they walk into a psychic fair or look for an intuitive for counseling that they simply say "it's too much for me" and walk away.
This book is for them:  the absolute beginners, the ones who don't even know what they don't know!
Belle:  When I went through your book, though, I got a sense you were also speaking to other intuitives.
Corbie:  I hadn't started out that way, but I was very flattered to find out that several professional intuitives I know felt that it was good to give to beginning readers, so that they would understand what was expected of them in terms of honorable, truthful service.  And if it works for them as well, I'm delighted.
I think that a comment I received from a colleague in Utah both surprised me, and helped me realize that this book was needed by our community for a long time: "As I read your book I wanted to cry… I not only feel people who are looking for a psychic should read it but psychics themselves. So many times a psychic needs to honestly examine themselves in a mirror to truly see who they are…this book may just well be that mirror."
Belle:  Your book sounds like it's been long overdue within our community. So many budding psychics and intuitives have graced the Metaphysical world without a clue how to operate their business with ethics and high standards. I am a firm believer that a good reputation in this field is one that will carry you far.
It's not always about the money but more about a desire to truly be of help and service to others.
Corbie:  Belle, it's funny, but one of my classic lines to reassure first timers with me is, "I'm not here to amaze you with my wicky-woo abilities.  I'm here in service."  And that's the real case.  We can't be in this for ego, we can't be in this just for the money, if we expect our gifts to grow, our compassion for our clients to grow, and our humility to stay intact.
We're a tool that Spirit uses to get information to people.  Just that.  It is Spirit that guides, Spirit that informs, and Spirit that assists.  My taking the credit for my abilities or my accuracy would be like the hammer strutting around on your back deck and saying, "Wow, look at that deck!  Wasn't I terrific?"  And you'd laugh.  Because the hammer just had someone pick it up and slam its head against a piece of wood!  It's the one that wields the hammer that is the builder.
I do teach an intensive course about being a professional psychic.  But that's a different beast.  This book is for the folks going to the readers, primarily.  If it gets the readers themselves thinking about what it takes to be a truly fine professional metaphysician, then that is a huge bonus.
Belle: I applaud you in creating your new book, THE PSYCHIC YELLOW BRICK ROAD. This will be a great assistance to anyone who is seeking guidance with the help of psychics, channels, and intuitives.
When will your book be available for purchase and where will it be sold?
Corbie:  It's available now on Amazon Kindle.  It will definitely be in paperback form, and we're expecting publication to be May 3rd.
Belle: Corbie, thank you so much for allowing us to learn about your new book. Please let our readers know how they can learn more about you and where to contact you.
Corbie:  I'm pretty easy to find!  The main place to visit is my website, corbiemitleid.com, which is full of all kinds of articles and information, as well as how to make appointments with me and where to find me on tour.  If you are a Facebook person, you can find my personal page at Corbie Mitleid and my business page at Fire Through Spirit.  And if you're into the Twitterverse, just find Corbie Mitleid.
(28)