In the introduction to her book, How to Heal Yourself When No One Else Can, Amy B. Scher asks that the reader imagine that they are a tree.  Your leaves become brittle and your branches droop.  The immediate reaction is to try to heal the leaves and branches.
However, after the treatment does not create the healing that was expected, you realize that the true reason for the problem lies in the soil that is the foundation for your once tall and strong tree.
After developing major health problems at age twenty-five and finally being diagnosed with Lyme's Disease, Amy Scher began a journey to find healing.  For several years and with numerous cases of misdiagnosis, Amy sought treatments around the world for the Lyme's Disease and several other conditions only to have them re-occur.  After much research, Amy came across the term energy medicine… the process of balancing and enhancing the energies of your body.  During her research she came to the conclusion that it is possible to heal yourself, which led her to become an Energy Therapist to share this knowledge with others who were also in need.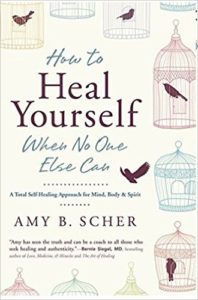 Modern medicine is too quick to treat the symptoms of illness and conditions, but not to look for the root cause.  Just as treating only the leaves and branches of your tree will not stop the deterioration of the tree as a whole, treating only the symptoms of your health problems will not bring about a change.  Ms. Scher has written chapters to help recognize and treat those things in your life that might be causing your health problems such as Learn the Language of Your Body, Clear Unprocessed Experiences, Release Harmful Beliefs, and Create Your Unique Map of Healing.
In How to Heal Yourself When No One Else Can the reader will find many charts, exercises, and techniques that will guide you through the process of creating healing for your mind, body, and spirit.  There is discussion and charts illustrating the links between the Chakras, glands, organs, other parts of the body and how they are impacted by stress and unaddressed issues from the past and present.  As I read this book I tried many of the exercises and found them to be easy to understand and use.  I especially enjoyed the techniques that are designed to delve into the subconscious mind to find the energy blockages causing the health issues.  Amy has also shared stories of sessions with some of her clients to illustrate the impact that these exercises can have on the health of a person.
To quote the book, the main concepts are as follows:
PART ONE: SURRENDER, ACCEPT, AND FLOW.
PART TWO: IDENTIFY BLOCKAGES.
PART THREE: CHANGE YOUR RELATIONSHIP WITH STRESS.
If you have ever found yourself saying that you are "so sick of this" person or situation then Amy Scher's book How to Heal Yourself When No One Else Can is a book that you need to read and re-read.  As this book promises, we are capable of healing ourselves and this book truly is a handbook for "A Total Self-Healing Approach for Mind, Body & Spirit."  I urge you to read this book and learn to take charge of your health of mind, body and spirit in order to enjoy your life to the fullest.
Amy B. Scher is an energy therapist who helps those in need of healing the body and spirit.  You may learn more about her online at www.AmyBScher.com.
You can purchase her book from Amazon.com
views:
(71)